Music
At Brownmead, we provide a high quality music education enriched with extra curricular activities. Music at Brownmead is taught through a variety of programmes.
We use Charanga and BBC Ten Pieces to ensure a range of coverage and skills. Every member of staff will have their own log in for Charanga to be able to access the plans and resources and all of the BBC Ten Pieces resources are available be on Staff Common as well as the BBC website, all free to download. We also take part in whole school music events, such as a whole school Christmas Assembly and each class incoraptes some music into their class assembly, such as a song about their topic.
When teaching any of the Charanga units, each lesson has ready made plans, resources and video accompaniments to support teachers. BBC Ten Pieces all have detailed lesson plans along with PowerPoint slides to accompany teaching. Topic based units are more child led; however, activities and ideas will be provided to support teaching.
A yearlong plan of the topics is below.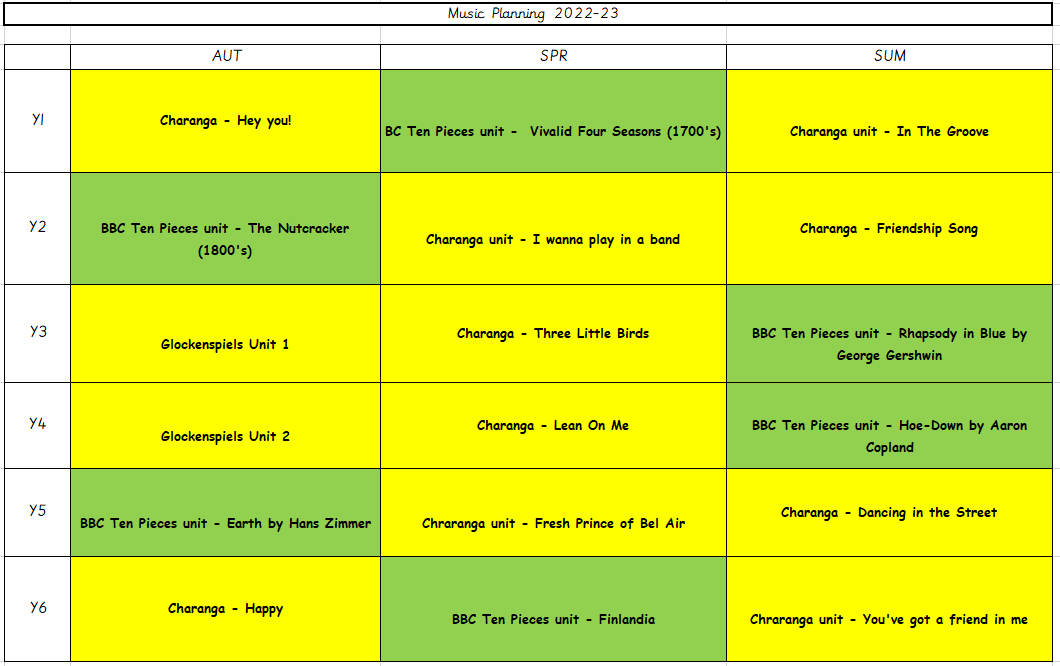 Evidence of the lessons and any other music taught in class, for example class assemblies, cross curricular lessons, or whole school events, can be through videos.
There are a variety of instruments available for your use during lessons and these are kept underneath the stairs and must be returned at the end of the lesson. There is a class set of glockenspiels, a class set of boom whackers and a variety of additional untuned instruments.
Year 4 also have specialist teaching all year from Services for Education which takes place once a week on Friday morning and is currently guitar lessons. Each child is provided with a guitar and case which they must bring to school each week and can take home for practice when it is not needed at school. This can then continue into Year 5 for those children who have a passion and would like to carry on playing. These are weekly lessons for 30 minutes, taught in small groups of up to 5. At the end of the year, parents and families are invited to a guitar concert which celebrates all of the hard work the children have put in over the year!