Pupil Leaders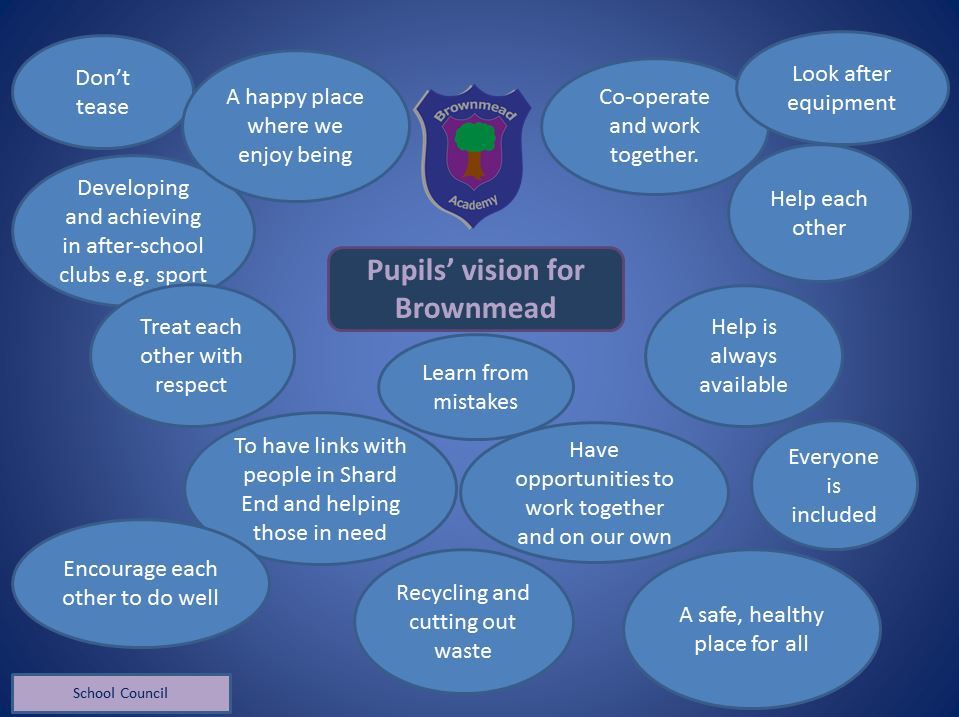 Pupil Leaders
| Head Boy | Head Girl |
| --- | --- |
| Harlow | Lilly-Rose |
| | | |
| --- | --- | --- |
| Y3 | Hawthorn: | Sycamore: |
| Y4 | Ash: Alfie and Amirah | Birch: Cally |
| Y5 | Elm: Ali and Nadia | |
| Y6 | Chestnut: Ali | Oak: Chase |
Academic Council have a very important role to play at Brownmead. We have recently changed from being called School Council to Academic Council as we are having more of a focus on pupil's voice with regards to teaching and learning. However, the children are still a voice for others in their class and will bring to discussions other business that may not be directly linked to teaching and learning. As a group they will discuss issues and find solutions. They are trusted by their peers and were democratically elected. Meetings take place every fortnight and so far we have had discussions about specific lessons that have impacted on them and their views on homework. Children's thoughts and ideas are fedback to staff and where appropriate acted upon. In the future children will be taking part in lesson observations and such as been the case in previous years be part of the interview process when employing new members of staff
| | | |
| --- | --- | --- |
| Earth | Abdul | Sumiyah |
| Fire | Caiden | Innayah |
| Water | Alpha | T'Klya |
| Wind | Archie | Ollie |
| | | |
| --- | --- | --- |
| Y3 | | |
| Y4 | Ash: Haider | |
| Y5 | Elm: Carson | Maple: Lewis |
| Y6 | Chestnut: Atalia | Oak: Scarlett |
| | | |
| --- | --- | --- |
| Y2 | Acorns | Conkers: |
| Y3 | Hawthorn: Kaiden | Sycamore: Annaya |
| Y4 | Ash: Michael | |
| Y5 | Elm: Sahil | Maple: Neave |
| Y6 | Chestnut: Reyhan | Oak: Kylan |
Eco schools are a charity passionate about engaging young people in environmental issues both in school and in the local community.
What is Eco Council?
Eco Council is a group of children who meet each month to discuss eco-friendly and environmental issues within school which prepares the children for their future lives with the consideration of global issues. There is one eco representative from each class from Y2 upwards.
What is the aim?
The aim of Eco Council is to prepare the children to live with reflection of the environment. It is also to ensure each class has a platform to voice their opinions (Article 13) which is their right and discuss and raise issues related to the environment.
How do I become an Eco Councillor?
At the beginning of the academic year, children can put themselves forward to become a class representative. Teachers choose successful applicants and the children can present themselves to their class stating why they would be suitable for the role. Classes then vote for their favourite Eco Councillor.
What happens in meetings?
During meetings representatives begin by completing an environmental review to see our school's successes and areas for improvement. This information is used create an action plan for the upcoming year. Throughout the year, Eco Council representatives discuss issues within their class then meet to discuss issues and ways to move forward with these ideas.
Achievements to date:
This year at Brownmead, we are aiming to achieve our Bronze Eco Award, which recognises us as an Eco School.
At present:
· We have a litter picking group at lunchtimes which has started in Year 3.
· Awareness in school has also been raised with home eco awareness projects being completed including sustainability issues.
· Children have created posters to promote initiatives such as recycling, reusing and reducing waste.
· Each class has their own recycle bags/boxes and encouraged to use and empty daily.
· Recycle bins in school to allow children (and staff!) in and around the school to recycle paper/card.
· Energy saving lights in classrooms around the school-motion detecting.
· Grow and look after plants flowers and fruit and vegetables in planters around the school.
· Staff complete the daily Travel Tracker which encourages children to walk to school.
Y1
Caterpillars: Isaac, Delilah-Rose and Evie
Grasshoppers: Ethan and Renaya
Y2
Conkers: Ronyar and Skylar
Acorns: Aliza and Harvey
Y3
Hawthorn: Haseeb and Beau
Y4
Ash: Poppy, Harmonie-Jai and Carter
Birch: Shayah and Aayan
Y5
Elm: Harrison and Olivia
Maple: Amelia, Dontae and Dominic
Y6
Chestnut: Lola, Ava and Kacey

Oak: Ruben and Daisy

Additional: Oliver, Teagan, Kamran, Lucy, Jaxon
As an Art Ambassador you will be sharing your passion and talent with the rest of the school; whether you are in school or learning at home your position is extremely important to everybody. In class you will be the experts of the Art world and support your peers as well as listening to them and their thoughts about Art and Design. You will need to do your best to enter the Art and D&T competitions that are set on ClassDojo or in school. Please feel free to bring YOUR ideas to our group which will be on ClassDojo for all of us to keep in touch in an easier way.